Awesome English Bull Terrier T-Shirts
Show your love for your special Bull Terrier pooch with these unique t-shirts made just for fans of the breed. English Bull Terriers are the best -- now let the world know!
This fun graphic t-shirt for Bull Terrier lovers features a portrait of the pooch done in a colorful stained glass style. This unique dog lover t-shirt is available in a variety of colors and can be purchased in unisex, women's, or youth cuts.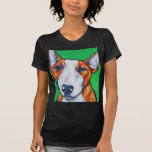 This beautiful t-shirt features a painting-style image of a red and white Bull Terrier portrait. The pooch is against a green background and the entire image has a pop art feel. This unique graphic t-shirt made for English Bull Terrier lovers is available in a wide variety of apparel styles and colors.
This women's t-shirt features a Bull Terrier face in black with grunge-style text below that reads "Bully Mom" in all capital letters. The overall design has a distressed style for a vintage look. Shown here in slate grey, the shirts is also available in baby blue, lemon yellow, heather grey, or pink. This is made of cotton or a comfortable cotton / polyester blend.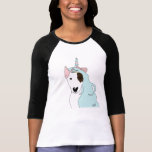 This funny graphic t-shirt features an illustration of a Bull Terrier as a darling unicorn! The unique bullycorn t-shirt shows the pooch-mythical creature hybrid from the neck up. The animal has a pastel blue and pink horn and a long wavy blue mane. This awesome Bull Terrier graphic t-shirt is perfect for anyone who loves these awesome dogs! Pick up this top in a variety of different shirt styles or colors.
This colorful t-shirt features a silhouette of a Bull Terrier set against a stylized scenic backdrop. The background evokes the American west with its warm colors, tall snow-covered mountains, and pale blue sky. The graphic design is faded for a cool vintage look. Get this English Bull Terrier t-shirt in unisex cut and black as shown or in one of several other colors; also available in women's cut or child sizes.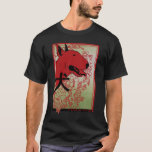 This fun t-shirt for English Bull Terrier lovers features a design with an Asian inspiration. The design features the portrait of a Bull Terrier in red against a delicately drawn floral background. The design is captioned "Year of the Dog" in all capital letters. Get this awesome design on a black t-shirt as shown or pick from dozens of other shirt styles and colors.
This fun t-shirt has a unique cartoon image of a English Bull Terrier performing the popular "dabbing" dance-style movement. This is a fun, trendy graphic t-shirt for anyone who loves English Bull Terriers -- even better if she or he also loves dabbing! Get this shirt in unisex black as shown or choose from four other different colors in women's or child sizing.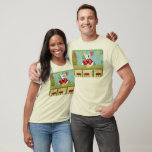 This unique and darling apparel design features a cartoon English Bull Terrier wearing a Hawaiian-style t-shirt. The pooch is behind the bar, acting as bartender in a tiki environment. The funny colorful t-shirt design is perfect for anyone who loves these unique and special dogs!
This rad design features a retro color palette of neon blue and hot pink. The graphic has an 80s feel with the pooch wearing cool mirror shades, grunge lettering, silhouette palm trees, stars, and a graph-filled triangle. Get this in a variety of different dark color shirts in unisex, women's, or youth fit.