Funny Leave Me Alone Dog Lover T-Shirt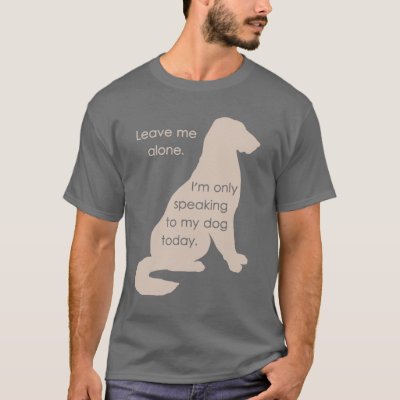 The holidays are coming up, and that might mean more social time with friends, colleagues, and family. Sometimes you just need a break from socializing with other people, though. Quality time spent with your four-legged friend might be the remedy you're after. In that case, have we got a perfect t-shirt for you! This fun text and silhouette pooch design reads simply:
Leave me alone.
I'm only speaking to my dog today.
The colorblock style design uses negative space within the dog silhouette to get across the point. The design uses a pleasing peach-tan shade which looks great against the grey t-shirt shown here. As with all options offered by Zazzle, this design can be transferred to other apparel styles so you can pick the color and cut best suited to your own fashion sense. A text-only version is also available; see examples below.
More Funny Leave Me Alone Dog Lover T-Shirts